Engine Error Codes
Welcome to Engine Error Codes information service. EngineErrorCode.com is listed ODB , ODB-I and ODB-II codes with their meanings, reasons and how to fix them. These Engine Error Codes divided 4 parts : Diagnostic Body (B) Trouble Code ,Diagnostic Network (U) Trouble Code ,Diagnostic Chassis (C) Trouble Code and Diagnostic Powertrain (P) Trouble Code.
Engine Error Code Logic :


1st digit
P = Powertrain
B = Body
C = Chassis
U = Network

2nd digit
0 = Standard
1 = Manufacturer specific



3rd digit
1 = Emission management
2 = Injector circuit
3 = Ignition
4 = Auxiliary emission
5 = Vehicle speed & idle control
6 = Computer & output circuit
7 = Transmission

How To Diagnose Engine Errors ?
When a car's on-board diagnostics system identifies a problem with the car's performance, it turns on a dashboard warning light and registers a code that identifies the issue. This engine error code, called a Diagnostic Trouble Code (DTC), is stored in the OBD system and can only be accessed by connecting a scan, or diagnostic tool into the EOBD diagnostic socket and reading the DTC off the display of the scanner.
Engine Check Light Meanings
Yellow List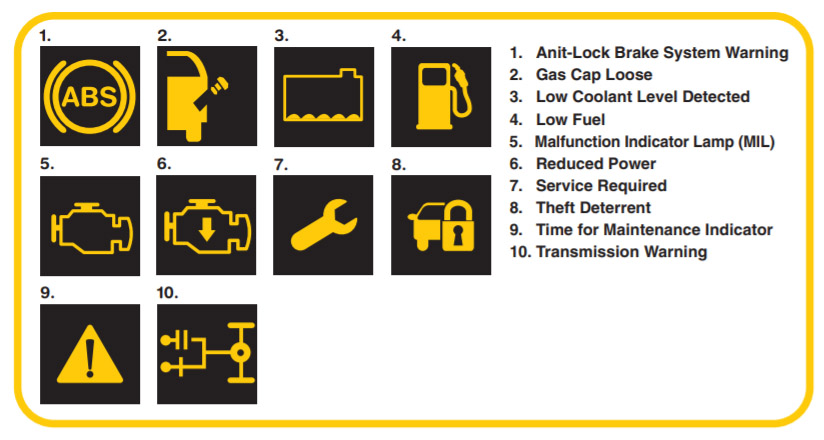 Anti-Lock Brake System Warning
Gas Cap Loose
Low Coolant Level Detected
Low Fuel
MIL - Malfunction Indicator Lamp
Reduced Power
Service Required
Theft Deterrent
Time For Maintenance Indicator
Transmission Warning
Red List
Battery/Alternator Warning
Catalytic Converter Warning
Electronic Throttle Control
Ignition Switch Warning
Low Coolant Level Warning
Oil Level Low
Oil Pressure Low
Temperature Warning
Theft Deterrent Fault
Transmission Fault - Do Not Shift
Transmission Fluid Temp Warning